Reef Renewal Foundation Bonaire
We protect and restore coral reefs in Bonaire by developing new and innovative ways to restore reefs that are supported by research collaborations and shared worldwide.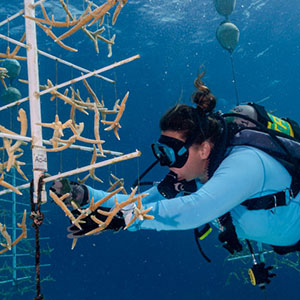 Giving Bonaire's Reef a Helping Hand
Since 2012, Reef Renewal Foundation Bonaire has been dedicated to restoring Bonaire's coral reefs through innovative coral nurseries and restoration techniques. Guided by our key priorities, we continue to restore multiple coral species, educate people from around the world about how they can help, and use the latest science and research to guide and shape our techniques.