Your Buddies TM
Buddy Dive Resort Bonaire is increasingly focusing on a level of social and environmental sustainability. Even though Bonaire is a small island, we thrive to create a better world together. Therefore a higher efficiency is sought after in all our business decisions.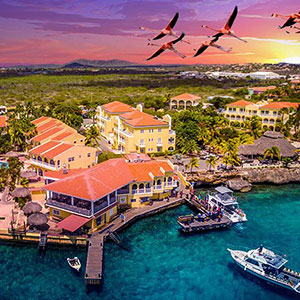 Your Buddies TM Focus on Social and Environmental Sustainability
Bonaire's nature is stunning, both underwater as topside. We would like to keep it that way, that's why we focus on corporate social responsibility, sustainability and the attractiveness of the island. For ourselves, but also for the generations to come.
Kids Council
Buddy Dive joined the first initiative of the Kids Council on Bonaire in 2017 and will continue to do so in the upcoming years. Local children from Kolegio Rayo di Solo are linked to our resort as a Kids Council. Thanks to the Kids Council children structurally help institutions and organizations think about strategic and social issues. In this project, together we thrive to come up with possible solutions and new perspectives to make the diving experience more attractive to children and young adults. The kids shared some great ideas for us to work with and we gave them the opportunity to get acquainted with the diving industry in their home country.
Water Purification System
During your stay at Buddy Dive Resort you can drink water from the tap. Buddy Dive uses a water purification system for desalination, one of the few rainfall-independent water sources for human use. Desalination is a process that extracts salt and minerals from ocean water using reverse osmosis.
Reduce water and electricity consumption
We try to make our guests aware of unnecessary water and electricity wastage in our rooms. Because you can help as well. Please turn of your air-conditioning and lights when leaving the room. Place your towels on the rack to re-use them or place them on the floor for laundry.
Biodiversity
The invasive Lionfish are harming native coral reef systems in the Caribbean waters. Many reef fish are threatened in their natural environment. In order to keep the fish population balanced, we hunt the Lionfish during dive trips and offer a Lionfish hunter specialty course. Bring in your own caught Lionfish between 3pm to 5 pm at Blennies Restaurant and we will clean and cook it to perfection to enjoy it for dinner the same day!
Recycling
Instead of throwing away the food leftovers of our restaurants, we donate this to the local farmers of Bonaire to feed their cattle. For cleaning and laundry we use biodegradable products. Also our take-out boxes at the restaurants are biodegradable, which means these products are capable of being decomposed by bacteria or other living organisms. In our shops we use eco-friendly bags instead of plastic bags.